5 Signs You Should Consider a Debt Relief Program
Are you currently struggling with debt? If you are, then you're not alone. Hundreds of millions of Americans have to deal with one or more types of debt. The largest can be credit card balances – getting rid of the debt can be too much for a lot of people.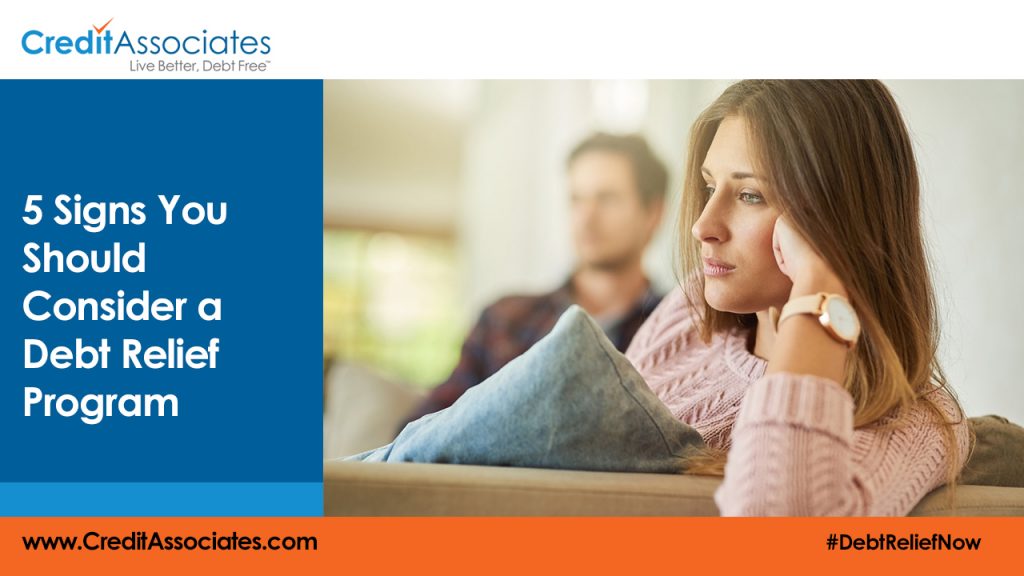 Many people assume that debt settlement is just a matter of setting aside part of their salary and using that to pay their existing balance. If that were the case, then there wouldn't be so many people in the US filing for bankruptcy every quarter of the year. Sometimes people simply have to accept the fact that they need to stick to a debt relief program to effectively settle their financial troubles.
Do you need a debt relief program to get rid of your existing debt? Review your situation and watch out for these signs. If any of these apply to you, get in touch with a reputable debt relief company and inquire about their debt counseling program ASAP.
You're earning "just enough"
Earning just enough to pay your debt and your regular expenses might seem like everything's fine, but that false sense of security has caught many households off-guard. The moment something unexpected happens – a serious disease, an accident, an unplanned trip – things start to fall apart and the debt usually becomes the least priority when it comes to budgeting money. With a solid debt relief program, you'll get to pay your debt while still saving enough for a rainy day.
You're paying too many fees
Being constantly late on payments will cost you more than a small fee. Being late can increase the amount of interest the credit card company charges you making it even harder to pay off. Also, late fees will not count towards paying your debt. A personalized debt relief program considers your resources and the debts you have to pay. This way, you can consistently make your payments and avoid wasting money on fees that would otherwise quickly add up over time.
Collectors like to call you
You know what's more bothersome than not being able to pay your debts? Having someone constantly remind you about it. If you already reached that point, it means your creditor has already sold your debt to someone else. Unfortunately, this also puts you at risk of falling victim to shady collectors that might show up and try to collect money for debts that you've already cleared beforehand. A good debt relief program will help you by providing debt counseling to sort these possible debts and also protect you from getting harassed by collectors.
You're taking out more loans
You'd think having a huge debt would stop anyone from borrowing more money, but the opposite is actually true. Some people are so intent on putting most of their money into paying their existing debt that they'd take out smaller loans to pay for their other expenses. One of the main purposes of a debt relief program is to help you get out of that particular cycle before the interest from those smaller loans piles up.
Compounding interest can cause even smaller debts to grow out of control in a matter of months. People who let this happen often have to struggle just to pay off the accrued interest, which means their debt isn't getting any smaller. If you think you're already at that point, you have to get in a debt relief program so that your next payments can actually count towards eliminating your debt.
Being able to settle your debts is a major achievement for many people, but you can pull it off faster by signing up for a good debt relief program. Get in touch with reputable debt relief companies and see which one offers a program that will suit your needs and budget.
If you like this article use this search term #ReduceMyDebt or click on this link to discover other articles on this similar topic.
For help finding similar types of articles, use these hashtags and keywords on your preferred search engine: #BestDebtHelp, #CreditCounseling, #DebtAdvisor, #DebtCounseling, #DebtNegotiators, #DebtPlan, #DebtPrograms, #DebtReduction, #DebtReliefHelp, #DebtReliefPrograms, #DebtReliefSettlement, #DebtServices, #DebtSettlement, #ProfessionalDebtRelief